Advantages of Mediation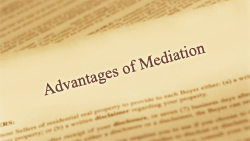 You are in control of you file.
The mediator does not resolve the file...you do!
Informal.
Cost effective.
Typically taking less than one hour.
The lines of communication are now open.
Mediation is a non-binding process. You are not forced to settle if the amount involved is not satisfactory to you.
An expedient resolution to a file.