Arbitration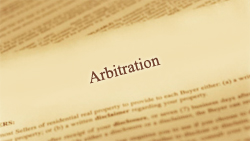 ar*bi*tra*tion - The process by which the parties to a dispute submit their differences to the judgment of an impartial third part appointed by mutual consent.
ar*bi*tra*tor - A person having the ability or authority to settle the issues between two parties engaged in a dispute or controversy.
What is involved in a typical arbitration?
Parameters are not disclosed to the arbitrator.
Each party presents their case.
Witnesses give testimony.
Closing arguments are made.
A decision is rendered within ten (10) working days.
All disputes are submitted to an impartial arbitrator who conducts an informal trial and renders a binding decision based solely on the facts presented. These facts are discovered through documented evidence as well as examination of witnesses. Following this informal trail, the Arbitrator will submit a binding decision with ten (10) working days in the written from of an abbreviated opinion.